A Fascia is One Type of Top Treatment
When doing roller shades, which in 2022 is one of the most common selections for window treatments, there are quite a few details to decide on. The one we are discussing in this blog is the choice of the type of top treatments. There are different names for this feature. Some people call it a valance, others a cornice and others use even more names. I use the term "Top Treatment" because it is the most generic of them all. Those other terms are very specific as to what they are. In this blog, we are showing a FASCIA. It is one of the many types of treatments that are workable for your roller shade project.
Which Top Treatment Should I Choose?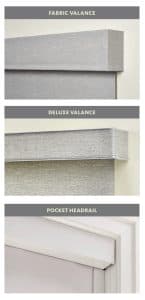 When you look at the pictures to the side, you will see quite a few choices. Remember, you don't need to do a top treatment with roller shades unless you wish to. The most common choice is the Cassette. It comes in various shapes and sizes. The fascia is the second most selected style. There are even choices that I NEVER do. If you work with me, I will point out why to you personally.
In this case, I'd like to point out why this customer selected the Fascia for their top treatment. As I mentioned in the video, the fascia gives a very clean look to the top of the window. It is done in a metal material and then is powder coated for that perfect finish. With most fabrication teams, the colors are limited. The colors that are available are White, Off-White, Black, Brown and Aluminum. Often the colors are listed with sexier names, but the colors are pretty much spot on with what I just laid out for you here.
Another factor which affects the choices that people make for their top treatments is the continuity of the look for all their roller shades. Let's say that one of your windows is really huge, like the one in this video. That particular shade size has limitations about what type of a top treatment will work with it. Thankfully, the fascia is one of the most doable choices. So, sometimes one opening makes the choice for all of your other openings. The takeaway from this paragraph is that the fascia is one of the most adaptable top treatments when it comes to accommodating very large roller shades.
Your Choice Will Be…?
We went over a couple of reasons why this client chose the fascia for their top treatments. The details that will help you make the right selection for your roller shades or other window treatments are exclusive to your needs and desires. When we work with you, we spend a significant amount of time helping you understand the products well enough to make the correct choice for what will work best for you. As always, we thank you for reading our blog.
About Us
Kempler Design is located in Reno NV and serves the northern Nevada and Lake Tahoe regions with a mobile design showroom. Paul Kempler, its founder is considered a window fashions expert. Kempler Design has been featured in many prestigious projects, including the HGTV dream home in Lake Tahoe. Kempler Design works with homeowners as well as interior design firms looking for a local contact in the Reno/Tahoe area or is available for travel.