Window Treatments
There are many responsibilities that come with being a Reno homeowner, but not all of them are an enjoyable as being able to choose your window treatments. The only thing is that there are so many options available now that it can almost be overwhelming. However, it is certainly better to have too many options than not enough.
So what are your most common choices?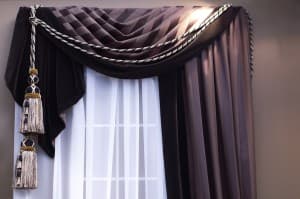 Shutters – Hinged panels, usually fixed on the inside of the home and usually louvered, they can be made from a variety of materials, most commonly wood or polycore. Louvered shutters are ideal for controlling the amount of light filtering in, more easily.
Blinds and shades – This window covering can be made from a variety of materials and come in a huge assortment of styles, however the basic idea is the same. Blinds are on a retractable roll or folding system and can be pulled or lowered up and down. Some homeowners with small children or pets prefer other coverings, that do not use strings, over blinds. Wood blinds,faux wood blinds and woven wood shades are popular options.
Verticals – These are most commonly found on larger windows or sliding glass doors. As the name implies, the slats run vertical, as opposed to horizontal, and are open and closed vertically. They also can close tightly in order to keep as much light out, or allow it in, as possible.
Draperies – Drapes or curtains can be opened all the way, closed all the way, or somewhere in between. However, if open at all, they enable anyone to see inside. For better privacy you can opt for sheer curtains which allow in light but not a completely unobstructed view.
While there are plenty of other options out there, these are some of the basic ideas. Next, you just have to find the right team of pros to work with in order to customize the look you get.
The Name That Matters
For all of your Reno window treatment options, the name to trust in is Kempler Design. We pride ourselves on being able to provide our clients with the finest quality products paired with the craftsmanship and customer service we invest in completing the job. Now, we look forward to taking care of your service needs.
Don't accept anything but the best when it comes to the work that goes into your home, right down to the window treatments. With so many choices out there, you are sure to find one you love. Get in touch with us right now and let's start improving the look of your home, inside and out, with the ideal window coverings.