Sidelight windows have been a pain to cover for ages. There have been many different types of window coverings made to cover them, some good, some bad. Most products are not designed to function well when they are so narrow.
For example, roller shades tend to skew when they are very narrow, potentially causing damage to the fabric. Blinds also have issues, because the ladders, which hold the slats, are rarely truly level when leaving the headrail. So, what to do?
The Norman Window Fashions SmartFit operating system, available in their Portrait Honeycomb Shade collection is a good solution. It has handles which allow it to operate manually. It can be operated in 3 ways:
Bottom Up- This is the standard, stack at the top operation.
Top Down- Stacking is at the bottom of the opening with this one.
Top Down/Bottom Up- If this option is chosen, the customer can stack the shade at the top or the bottom of the opening.
One great thing about the SmartFit system for sidelight windows is that it can function like this in windows less than 10″ wide. The SmartFit operating system is not the only shade that can work on a narrow sidelight window. Hunter Douglas is another company that has tackled this problem. See the photo attached to this page to see the Hunter Douglas Operable Sidelight Window shade.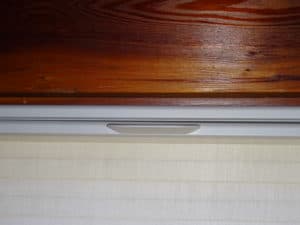 When comparing the Hunter Douglas Operable Sidelight Window Shade to the Norman SmartFit, the one noticeable difference is the cord position. Notice the SmartFit cords in their wider position. As a result, they block less of the view with cords. Which is better for your windows? Let us help you make that choice.
About Us
Kempler Design is located in Reno NV and serves the northern Nevada and Lake Tahoe regions with a mobile design showroom. Paul Kempler, its founder is considered a window fashions expert. Kempler Design has been featured in many prestigious projects, including the HGTV dream home in Lake Tahoe. Kempler Design works with homeowners as well as interior design firms looking for a local contact in the Reno/Tahoe area or is available for travel.