One of the concerns with curtains or draperies is the size of the stack of  curtain fabric when they are drawn to the side. On this project in the Lake Tahoe area, the client wanted the beauty of draperies to soften the look of all the hard surfaces in the room.
Closed Draperies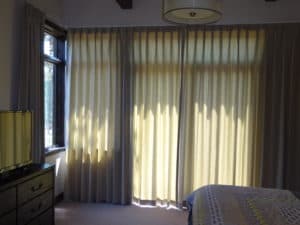 The concern was how much wall space the fabric would have taken up. They choose a standard pleating, which has a fullness of about 2- 2 1/2 times the width of the curtain rod, so when you have that much fabric, the stack must be contemplated. As can be seen from the photos, this is a large wall of windows and the view outside of it is spectacular. So, we needed to adjust where the material stacked based on the need of the moment.
Stacked Left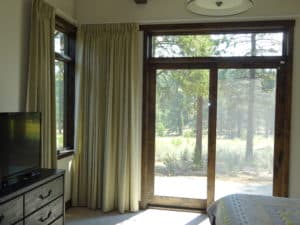 I doubt that the client will ever use the "Stacked Left" configuration, but I wanted to show how the choice of drapery rod can make multiple stack options possible. Actually, as I write, I remember that they WILL use this stack. The reason? Because the sliding door opens on the right side. So, at night, they can keep just the part of the door that is open uncovered and the rest of the patio door opening will be closed for privacy
Stacked Right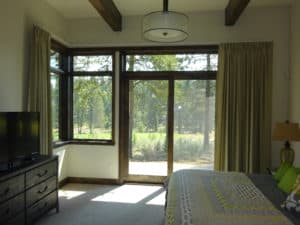 Most of the time the client will use one of the curtain stacks shown in the two photos below. Stacked all to the right to allow the most light into the room and to frame the view of the golf course. Or…
Split Stacked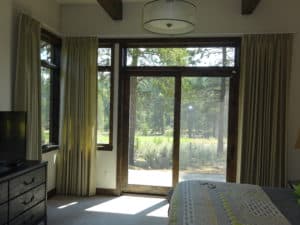 Split stacked to offer balance when they need this type of a look. Notice that the curtain stack on the right leaves the door completely uncovered, whereas when all of the fabric is stacked to the right, the trim on the right side is covered. These decisions need to be made prior to installation so the client knows exactly how the draperies will stack and with what effect.




The drapery rods are a commercial grade rod with roller bearings inside them to make long term use practical. They are not telescoping rods. They are ordered and installed as one piece. This rod was chosen for its cost and practicality because the homeowner is having their carpenter add a valance over the top of the rod in a matching wood and stain to the home's trim.
About Us
Kempler Design is located in Reno NV and serves the northern Nevada and Lake Tahoe regions with a mobile design showroom. Paul Kempler, its founder is considered a window fashions expert. Kempler Design has been featured in many prestigious projects, including the HGTV dream home in Lake Tahoe. Kempler Design works with homeowners as well as interior design firms looking for a local contact in the Reno/Tahoe area or is available for travel to your area.