Should You Order the UltraGlide by Hunter Douglas?
I know that when I'm trying to buy something that I don't know enough about, I tend to look for professional opinions to help me make a decision. That is the goal of this blog. Remember though, that this is my opinion of UltraGlide. Though, I will be putting some facts in the post as well. The video is on the factual lines. What I type afterward, is the opinion section.
My Opinion of UltraGlide
My opinion of UltraGlide lift system is that it a great choice if you have certain requirements. But realistically, it is one of the least selected choices by my clients. Why is that the case? Here are some reasons. Of all the mechanisms for lifting or lowering your shades, the UltraGlide is the most complicated. It requires that you know exactly how to use it. When I install for clients, I spend time with them explaining how to use it. So, what is the issue?
Let's say that you get this type of lift system for your short term rental home, like at Lake Tahoe. Can you imagine getting calls from half the renters telling you that the shades don't work? Aughhh. When I do these mechanisms for people who rent out their homes, I encourage them to share the above video with them to help them know how to use the shades before they get to the property. The same is true for guest rooms in your home. Most people need training as to how to use the UltraGlide lift system.
More Reasons to Think About Other Options
Annual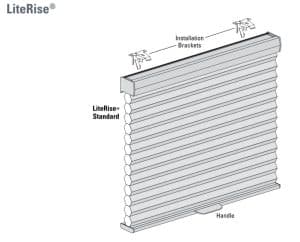 When you started reading this, it was mentioned that I was giving my opinion of UltraGlide systems. Therefore, I have more to share. Think about the options you have with Cellular Shades with Hunter Douglas.
PowerView- Motorization
UltraGlide- Retractable Cords
EasyRise- Continuous Cord Loop
LiteRise- Cordless
Any of the above choices can be the best for you. And, when it comes to opinions, my clients hire me to offer my view to them. I don't offer opinions until I see a client making choices that they may want to have more facts for. Let me give you a very simple explanation using the client that I shot the attached video with this week. Here is how the conversation went.
How We Selected the UltraGlide Option
The client was not wanting motorization for their doors. One of the reasons is that the current version of the PowerView motors uses battery packs that we could not hide simply. Then, the EasyRise cord loop system was viewed as unattractive due to the fact that the cord would have to be mounted down a few feet below the headrail and would always be visible. Some people don't mind this, but most of my clients hate that idea. Next, the most popular non-motorized version, LiteRise. Since they couldn't easily reach the top or the bottom of the shade, this system was not a comfortable choice for these clients. So, what was left to select? The UltraGlide mechanism. So even though they wanted my opinion of UltraGlide, it really became about the facts and the functionality. In the end, the client ended up very pleased with the choice they made and it was a pleasure to help them make the correct selection.
About Us
Kempler Design is located in Reno NV and serves the northern Nevada and Lake Tahoe regions with a mobile design showroom. Paul Kempler, its founder is considered a window fashions expert. Kempler Design has been featured in many prestigious projects, including the HGTV dream home in Lake Tahoe. Kempler Design works with homeowners as well as interior design firms looking for a local contact in the Reno/Tahoe area or is available for travel.