Do I Need a Divider Rail For My Shutters?
In this video and post we are showing you what divider rails look like. I will also go over some details as to when you HAVE to use them, versus when you might CHOOSE to do them. In the past, divider rails were almost mandatory, but technology has really created new options. Let's take a look at the Stiles, which are the side pieces that the louvers fit into. The pictures are below the YouTube video.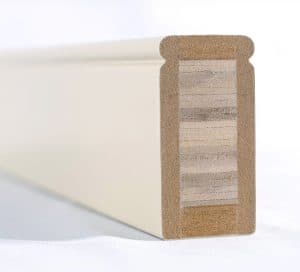 If you look at the pictures of the stiles, you will see that it isn't just a solid piece of wood. It is a heavily engineered laminated insert. This makes sure that the stile, which holds the louvers, is very stable. In all my years of doing shutters, which is about 30, I've NEVER had a stile of this form warp. That is impressive and awesome.
There is another factor that matters here too.
Tall Windows Need a Divider Rail
As stable as these stiles are, it is still important to understand that when you have a tall window, you will need a divider rail to run horizontally on your shutter. This is because at a certain point, the longer the stile, the more it can tend to wobble. If it wobbles, then you can run the risk of louvers falling out. I've seen that happen in the past, from a different company though. I've never seen a Norman Shutter lose a louver due to a weak stile.
As far as how tall of a shutter you can have without a divider rail, it will depend on the company that you purchase from. In this case, the window was 96" tall. It NEEDED the divider rail. Norman Shutters mandate divider rails for their wood line at 78", though under some circumstances you can do a whole 7 feet without adding the divider rail. We can talk about this more when discussing your project, but this gives you an overview. Next we will talk about hinges.
Hidden Hinges Mimic Cabinetry
All shutters require hinges to open and close the panels. For years, standard hinges have been used. These hinges project past the front of the shutter to the room side. There is no negative to this style, but trends are fun to know and follow. If you look at the cabinetry that you have in your kitchen, you will notice that you can't see your hinges. This is because the cabinet industry has led the way in giving a sleek look to the lines of the craftsmanship. Shutters are heading that way too.
Not only are the hinges hidden, but they have the ability to be adjusted with an Allen Key to set in the perfect position. They are also very smooth and stable.
Well, we have gone over a couple of details now on shutters. Please keep in mind that there are many other micro details in regard to these shutters. If you would like to work with Kempler Design on your shutter or other window covering project, please let us know and we can set up a consultation. Thanks for reading our blog.
About Us
Kempler Design is located in Reno NV and serves the northern Nevada and Lake Tahoe regions with a mobile design showroom. Paul Kempler, its founder is considered a window fashions expert. Kempler Design has been featured in many prestigious projects, including the HGTV dream home in Lake Tahoe. Kempler Design works with homeowners as well as interior design firms looking for a local contact in the Reno/Tahoe area or is available for travel.