Daisy Chain Powered Motors
This job was very interesting to design and install. As you can see from the video photo, some of those windows were very high. The customer wanted motorized shades, but didn't want to have to climb up to the top of the window to charge them. I gave them a few options for where the batteries could be placed to make that easier, but we never came to a mutual agreement. They wanted to make it as simple as possible. Here is what we did. Watch this detailed video.
It took me a minute to help them to see how much the daisy chain powered system would work. It was not an easy installation, but the end result was perfect. Due to the fact that the three shades at the top of the wall are all plugged into the 18V DC wall transformer, they never have to charge a battery. The only flaw is the fact that the cords are visible. But to them, the cords are a "nothing-burger" because they never have to climb up a ladder to charge their batteries.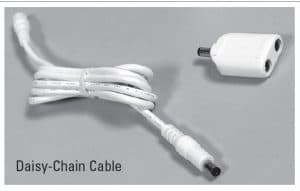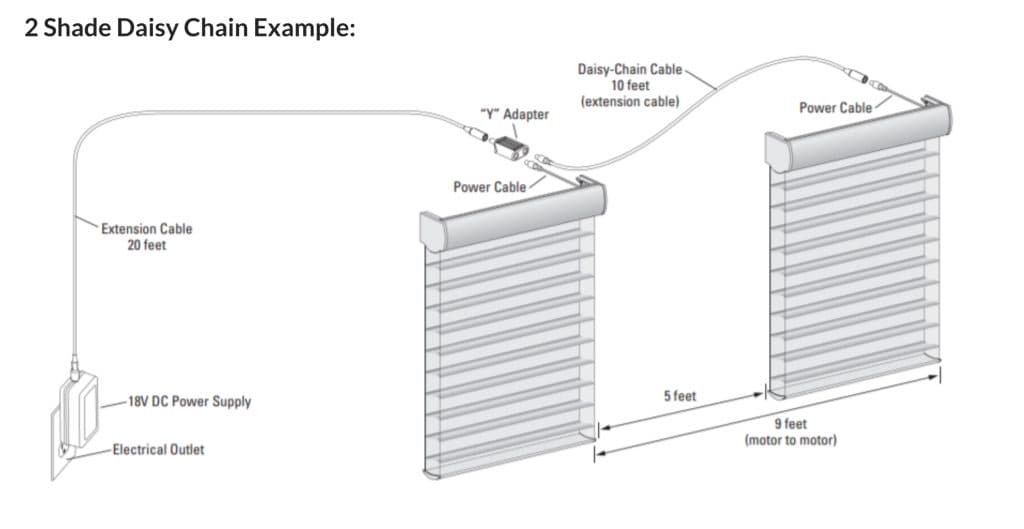 Things to Think About
When you look at the photos of the parts, you can figure out how they work. You need a professional to help you get this right, since there are so many details. For example when you look at the video, everything seems pretty simple, but if you knew some of the details you'd be calling us! For example, I used two 20 foot cables, one 4 foot cable as well as one 10 foot cable. You have to pre-determine all kinds of micro-details to get this clean and simple.
When you look at the video, you can see those cables. I made that clear to the clients. They were fine with that, but I still suggested that they use a handyman or craftsman to cover them up in a way that blends them in with the walls they are on. Here is my opinion. I'm not a huge fan of cords being exposed, but under the circumstances I think this was a great selection. Since the windows are 20+ feet off of the ground, your eyes will probably not focus on the cables that are mounted to the wall and ceiling. What will be right for you? Let us help you to decide and you will be as happy as this client. Thanks for reading our blog.
About Us
Kempler Design is located in Reno NV and serves the northern Nevada and Lake Tahoe regions with a mobile design showroom. Paul Kempler, its founder is considered a window fashions expert. Kempler Design has been featured in many prestigious projects, including the HGTV dream home in Lake Tahoe. Kempler Design works with homeowners as well as interior design firms looking for a local contact in the Reno/Tahoe area or is available for travel.