When you order custom curtains, you have the ability to accommodate all your needs if you design it correctly. This home in Sparks NV shows us an example of how we can make your draperies to fit your specific functional and design needs.
The concept of these custom curtains is not super special in that we have a sheer layer on the room side and a room darkening layer in the back. Lots of people design a layered drapery. But, by rod choice, we were able to really do some special stuff. Please watch the video to see all its functions.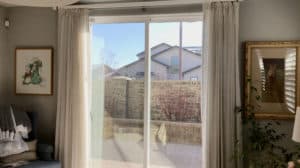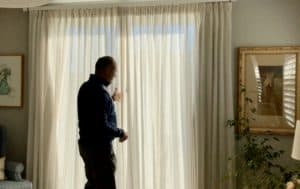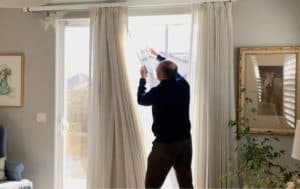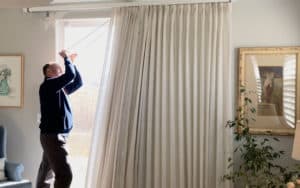 The photos also show these custom curtains in their different positions. As you can see, the big difference for this job has to do with the track system. Even though the curtain rod has a wood fascia on it, it is a metal track system with ball bearing carriers in it. This allows the drapes to go anywhere we need them to.
The concept of showing these custom curtains is just to help you see that we can do all kinds of  adjustments if you do them custom. If these draperies were done with standard curtain rods with rings, the center support would interfere with the movement of the panels.
True, they do offer custom "C" rings, which can bypass brackets, but they are not as efficient as custom curtain rods. They are smooth and tend not to get bound up.
One other thing having to do with custom curtains and the rods is whether to do batons, like in the video, or to use cords to control the curtain panels. In this case, we had to use batons, because cording wouldn't allow us to have all of the options with placement of the curtains.
As you can tell. Everything we do is custom, but it isn't always more expensive than standard draperies. To have these panels go to various places is just a design issue. The cost differences are minute.
If you are wanting custom curtains, please consider all the options available to you so you get the most enjoyment from them.
About Us
Kempler Design is located in Reno NV and serves the northern Nevada and Lake Tahoe regions with a mobile design showroom. Paul Kempler, its founder is considered a window fashions expert. Kempler Design has been featured in many prestigious projects, including the HGTV dream home in Lake Tahoe. Kempler Design works with homeowners as well as interior design firms looking for a local contact in the Reno/Tahoe area or is available for travelIf you are looking for a Window Treatments Company in the Reno area, please call Kempler Design at 775-857-3100 or fill out our online request form.