Kempler Design is a Great Choice For Purchasing Custom Curtains
Curtains and draperies are about to make a really big comeback for homes in the Reno and Lake Tahoe area. We've been in a very sleek design environment lately and changes are coming. The more that people feel stressed over other areas of life, the more they crave peaceful and relaxing styles in their homes. We are clearly in a time period where calmness and chillness are going to be more and more desired.
In this video and blog post, we talk about how custom curtains can be used to get the feel you'd want in your home. Please keep in mind that this design was done for the interests of the homeowner. Your desires might be different, but when you work with Paul Kempler, the owner of Kempler Design, he will work directly with you to make sure you get not only the function you need, but also the style you desire. Please check out the video to see how this job turned out.
Custom Curtains Are All About YOU!
In this project, we helped them get exactly what they wanted. Here's a question; Have you ever seen so many pleats for a grommet top curtain? Probably not, and there are many reasons why. Only custom grommet top draperies have that many pleats. A typical width of fabric usually has 4 pleats. So, when you see 20 pleats here, it means that we seamed 5 widths of fabric together. That is pretty special. Another reason why it is rare is because 20 pleats in lined curtains is quite heavy. This means that we needed custom curtain rods as well. Some of the things we did behind the scene were quite impressive, like extra brackets or specialty sized tube widths.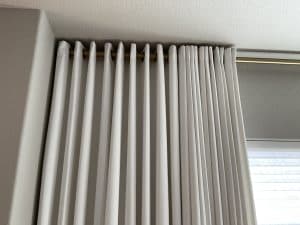 In the end, the technical stuff makes the project work for your needs. But, again, it is the design side that will bring smiles to your face all the time. This client wanted pale colored fabric to give them the soft look that they wanted. Your choice might be completely different. You might want prints, or textures or bold colors. Whichever your needs and desires, Paul is going to work closely with you to help you get exactly what you want. We do offer our window treatment products all over the country, but when it comes to curtains or draperies, we tend to work in the Reno and Lake Tahoe areas. But, if you have a large project anywhere, we are happy to consider whether working with you will be mutually beneficial. Let's see.
About Us
Kempler Design is located in Reno NV and serves the northern Nevada and Lake Tahoe regions with a mobile design showroom. Paul Kempler, its founder is considered a window fashions expert. Kempler Design has been featured in many prestigious projects, including the HGTV dream home in Lake Tahoe. Kempler Design works with homeowners as well as interior design firms looking for a local contact in the Reno/Tahoe area or is available for travel.