Custom Drapery Rods Overcome Issues
This blog is about overcoming challenges when doing draperies or curtains. The project we were working on needed custom drapery rods because of the slope of the ceiling. The height from the floor to the ceiling on the left side was 2" higher than the right side. This raises huge issues if you want to do a drapery or a curtain in the space. If you were wanting to do readymade panels or rods, you would end up with either a huge gap on the left side or puddling of the fabric on the right side.
This is because we had to mount to the ceiling in this case because the clients already had a shade mounted on the window that did not allow us to mount to the wall. Being honest here, if you have a situation like this, please use a professional. You will encounter so many issues that you need someone that really knows what they are doing on your project. Even though this job was in Tahoe, I run into this issue, sagging ceilings, in Reno all the time. The downtown condos here have this issue. The one I see the most sagging is Arlington Towers. From one edge of the window to the other I've seen as bad as 4" difference in height. Yikes.
Some Options For Custom Curtain Rods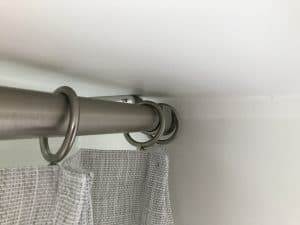 In this case, we made the brackets at custom drop lengths. The custom drapery rods have 3 brackets holding them and the drops are all completely custom. The rod is very custom too. Even though the overall width was about 14 feet wide, the center of the space was not at the exact halfway point. This meant that by doing them completely custom we placed the center at the spot that would look like it was the center, even though it isn't.
Every job we do here at Kempler Design is custom. We want to make sure that you get exactly what you want. Please let us help you with your project. Thanks for reading this blog.
About Us
Kempler Design is located in Reno NV and serves the northern Nevada and Lake Tahoe regions with a mobile design showroom. Paul Kempler, its founder is considered a window fashions expert. Kempler Design has been featured in many prestigious projects, including the HGTV dream home in Lake Tahoe. Kempler Design works with homeowners as well as interior design firms looking for a local contact in the Reno/Tahoe area or is available for travel.