Corner Windows and Curved Rods
Though I have done many curved drapery rods in the past, this is the first time I recall doing them in a video and blog post. It is a very basic video, but if you have a corner window, then you will be interested in seeing how it works. If you need your curtains to go around a corner, then clearly you need a rod that is custom made to accommodate your needs. This job had so many factors that we needed to cover. I will give you some of those facts, though your needs are probably different. We will address those if you decide to work with us.
Some of the Details of This Curved Drapery Rod
As far as needs go, this client in South Reno wanted something very unique. They wanted all the windows covered, but they also wanted the entire stack of the panels to go to the far left. Please watch the video so you can see what I am referring to here. They also wanted the drapes to be motorized. This is not an issue in these modern times of automation, but doing so as a curved drapery rod meant that we had to work through some concerns.
We used a company named SM Automatic, which manufactures motorized window treatment systems that are very specialized. The fabrication that I received is very solid. The motor is quiet. The run of the wheeled carriers is smooth. The remote control is simple and effective. Here are a couple of factors that are good to know.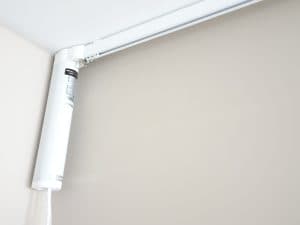 Small Details of These  Curved Rods
When you watch the video, you will notice that there are "wands or batons" mounted to the drapery rod. This might seem odd for a motorized and curved drapery rod, but check this out. The modern design of powered curtain rods allows you to function the rod without use of the remote control. For example, if you are walking quickly to the door portion of the room and you want to run outside, it is far easier to just tug the fabric to the side than look around for the remote control. This makes the use of the draperies much easier to use.
Another factor you would need to know is about the way the motor received power. If you look at one of the pictures attached to this blog, you will see a cord coming out the bottom of the motor. We have choices as to how these are attached to power. In this case, because the client was having a trim piece placed over the drapery track as well as the motor, we decided to to go with an attachment that just plugs into the wall. We also have the option of hardwiring the motor via a junction box. The bottom line is that we can see what your needs are as far as electrical power and come up with the right solution.
You may be doing a standard motorized curtain rod or like this blog post, a curved drapery rod, but I hope you found some benefit by reading this blog. If you want to work with us, please check out the information below about who we are and how we can assist you. Thanks for your time.
About Us
Kempler Design is located in Reno NV and serves the northern Nevada and Lake Tahoe regions with a mobile design showroom. Paul Kempler, its founder is considered a window fashions expert. Kempler Design has been featured in many prestigious projects, including the HGTV dream home in Lake Tahoe. Kempler Design works with homeowners as well as interior design firms looking for a local contact in the Reno/Tahoe area or is available for travel.