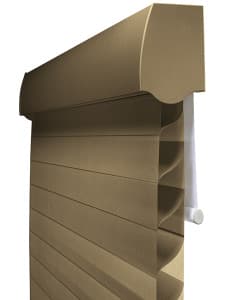 There is a new upgrade for the Silhouette shade available. It is the "A Deux" feature. If you look at the first photo, you will see how the traditional Silhouette shade has had a second layer, a black out roller shade, added to the mix. This enables the user to have the normal light filtering Silhouette shade functioning on the front of the opening and to have the ability to block out light with the back layer for any room darkening situation. OPINION- I feel that the most attractive Silhouette Shade is the one that allows the light to filter through the fabric. Some of the weaves of material are very attractive and adding a room darkening or blackout lining directly to the material lessens the attractiveness of the fabric. So, by adding a movable lining, you are able to see the weave of the material when the shade is in a light filtering setting, while still being able to darken the room at times that you need it.
The cost to add the A Deux feature is very reasonable and so far, my clients have been very happy with the look and function. The only real tough choice is the type of mechanism that you will choose. Since the room darkening layer is behind the front shade, you want something that is easy to use and doesn't require you to reach past the front shade, so in my opinion, the best option is to have at least the rear shade be motorized. If you want to see an A Deux shade in person,
contact Kempler Design
, or a
window fashions expert
in your area.