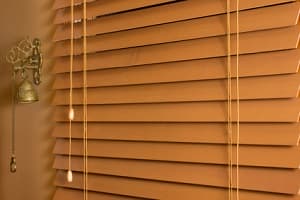 Window Blinds in Reno come in all shapes and sizes. They are designed for sunlight control, enhanced privacy, and a wide variety of styles, colors, shapes and sizes. Blinds can meet specific functions and can also save you on your energy bill. Do your homework before purchasing blinds. When you are ready, Kempler Design can help you get the perfect blinds for your home or office. Here are some helpful hints when considering your next blind purchase.
Routless wood blinds control light more effectively than routed wood blinds do. Routless blinds provide better light control by getting rid of the need for the small holes found in routed blinds. They provide greater coverage which gives your room far more privacy.
Cord Tilts are effortless and easier to use. A cord tilt allows you to adjust the angle of the slats with little exertion, and the matching tassels create a more consistent look give your blinds an overall cohesive feel. Cord tilts are also very helpful for people who have a limited range of motion in their wrists and arms.
Wood blinds are moisture resistant. Since they're moisture resistant, they are ideal for humid or splash areas such as bathrooms and kitchens. This also means they are resistant to mold or algae build up.
Cleaning is Easy. Use a damp cloth or duster attachment on a vacuum cleaner to clean these blinds. Wood blinds rarely get dirty, so frequent dusting and occasional cleaning should keep them looking bright new.
Embossed wood grain finish adds depth to your blinds. It enhances the look of your wood blinds, and adds texture. There are many different textures and styles to choose from. Match the right style with the overall look and feel of your room.
Accurate measuring and ordering is essential for a proper fit. Properly measured blinds are easy to install, block more light, and give a professional finish. It important to measure the overall width of the area you are covering as well as the width of the area of each blind, the total width of the shades and head rail, and the height.
Choose between Inside and Outside Mounts. Inside and Outside mounts have different measuring and installation directions. Follow the directions specific to the mount you choose. Keep your measurements as accurate to the smallest unit as possible. If you want a total closure with little light than keep your measurements to 1/8 or 1/16 of an inch.
The last thing you want to consider is how the blinds are going to fit into the overall motif of your room. Consider your style of your furniture, the color of the walls, the carpet, any lighting, carpet color and texture. You want your blinds to have a seamless cohesion which only add to the look and feel of your room.