Interior Design Services in Reno, NV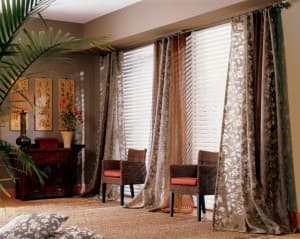 From many years of experience, Kempler Design has developed a design process to make certain that you receive the style you desire and the function you need from your new window treatments. From the first FREE consultation, we will work diligently with you to understand your unique style and suggest the options that we feel will be the perfect solution for your individual needs. No matter what you design dilemma may be, Kempler Design has the experience and skill to provide you with quality Reno interior design services at an affordable price.
At Kempler Design, we strive to maintain an excellent working relationship with each of our clients. Our dedication to each and every job that we undertake is apparent from our in-depth design consultation. We design for our clients based on their individual needs and wants. We make sure that no concern or necessity of yours is overlooked and we are willing to put in as much time as needed to establish your needs for function and your tastes in interior decor. Call us today at 775-857-3100 to discuss our interior design services offered in Reno, NV.
Our Reno Interior Design Services Provide:
Reno Window Decor
Window Coverings Ideas
Contemporary Window Treatments
Custom Blinds
Modern Window Treatments
Custom Shades Reno NV
Vertical Blinds
Window Covering Ideas
Unique Window Treatments
Window Treatments for French Doors
Reno Shutters and Blinds
Ideas for Window Treatments
We Provide Interior Design in the Following Areas:
Reno, NV | Glenbrook, NV | Crystal Bay, NV | Incline Village, NV | Sparks, NV
Why Reno Should Hire Us for Their Interior Design
At Kempler Design, we specialize in guiding Reno homeowners through the maze of window treatment option to find the best options for their individual needs. From consultation to design to installation, we will strive to give you the exact style that you desire with the functionality to address any of your concerns for your new window treatments. Your first in-home consultation is FREE and designed to assist you in choosing the perfect window decor for your home. Our professional team will also take FREE measurements of your windows to guarantee that your new window covering will fit properly and function correctly after installation.
Our Reno interior design services can either create new window decor to blend in with your current interior design or help you create a whole new look for any room in your home. We also offer FREE installation of all window treatments that are purchased from us. With top-quality shutters, blinds, verticals, shades, draperies, valances and motorization services, we are equipped to handle any of your window decor needs. Call us today to set up an appointment with an interior design expert from Kempler Design.
Recent Articles About Window Covering Ideas
Decorative Side Panels for a Large Window in Reno

Often times, people have very large windows, and they want to do a drapery look without having to do a full drapery. This video shows some important things to keep in mind when doing this treatment. I feel that one of the most important things to keep in mind is "Scale". When you look at...

Read More
Creative Ideas for Window Coverings in Reno

I was recently asked what the most unusual thing I have done in my business and I thought for a while, coming up empty, and my wife actually reminded me of a very unusual job I did about 15 years ago. A gentleman professor who loved art history had me take one of the most...

Read More
If you are looking for Reno interior design for window treatments, then please call Kempler Design at 775-857-3100 or complete our online request form.