Custom Draperies in Reno, NV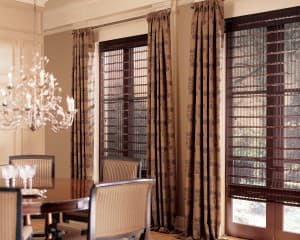 Custom draperies are classic and elegant window coverings that can be tailored to complement any decorating style. With many new contemporary patterns and styles, these aren't your grandmothers curtains but sleek modern window treatments. Not only are drapes a beautiful accent you add dimension to your windows, they also have many practical uses. Lined options can add insulation to improve energy efficiency as well as providing some noise reduction. Clever placement of hardware can enhance your windows making them look taller or wider creating a dramatic effect. You can also layer custom drapes or curtains with blinds and shades to create a striking look for your Reno custom draperies.
Drapes and curtains can greatly affect the style of a room. Whether you are looking for new custom drapes for an elegant dining room or a relaxing master bedroom retreat, Kempler Design has a large selection of fabrics and several drapery styles to suit your personal style. We carry several lines of custom draperies and custom curtains from designer brands like Horizon Window Fashions. With so many options available, it's easy to make the wrong decision and end up with a look that doesn't suit your home's decor. Work directly with the owner, Paul Kempler as he helps you to find the perfect Reno window treatments for you.
Our Reno Custom Draperies Service Provides:
Modern Window Treatments
Reno Window Decor
Window Coverings Ideas
Fabric Roman Shades
Room Darkening Shades
Curtains and Valances
Custom Draperies Reno NV
Contemporary Window Treatments
Ideas for Window Treatments
Elegant Window Treatments
Window Cornice
Reno Custom Window Shades
We Provide Custom Draperies in the Following Areas:
Reno, NV | Glenbrook, NV | Crystal Bay, NV | Incline Village, NV | Sparks, NV
Why Reno Should Hire Us for Their Custom Draperies
At Kempler Design, Paul Kempler is dedicated to helping you to find the best possible custom draperies for your Reno home. We carry only top-quality products at no additional cost to you. We will come to your home with our wide selection of Reno custom draperies at an appointment time that is convenient to you. Call us to set up your FREE design consultation during which our skilled team will take precise FREE measurements of your windows.
Our expertise in interior design will guide you through the maze of custom drape styles and fabrics. We will make suggestions based on your personal style and needs. After you purchase your Reno custom draperies through us, we will come out and perform FREE installation of your new window coverings. If you are ready to get new custom draperies for your Reno home, let Kempler Design help you. Call us today at 775-857-3100.
Recent Articles About Custom Draperies
Use Drapes to Decorate Interior Spaces

One of the architectural features that is very common today is an arch pass-through, from one room to another. In the photo attached to this blog, we see one such example. This is a non-operating drapery. Why would someone do this type of a treatment? The most often used reason is that they want to...

Read More
Narrowing Down Your Choices

The other day I was shopping for health insurance. I talked to a couple of different agents and had a bit of an epiphany. There really are a lot of choices in coverages. Honestly, I was overwhelmed. How does one decide which policy to select?...

Read More
If you are looking for custom draperies in Reno, NV, then please call Kempler Design at 775-857-3100 or complete our online request form.